2022 Program of the Year Winners
Announcing the 2022 CPED Program of the Year Winners!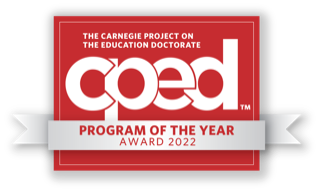 Baylor University - Doctorate of Education in Learning and Organizational Change


Northeastern University - Doctor of Education
Yes – you read that correctly. The POY Committee ended their finalist deliberations for this year's POY award with a decision that these two outstanding programs, in quite different ways, deserve recognition in how they have approached social justice-driven innovation. We are thrilled to welcome Baylor and Northeastern Universities into the proud fold of POY award winners.
We believed both programs needed to come forward as significant learning opportunities for CPED member institutions. To name but one important difference, Baylor University developed a new EdD program. Their application detailed how its institutional drive for equity framed key decisions and how those decisions resulted in the impact they desired. On the other hand, Northeastern took an established program, recrafting its key elements to focus more on equity-driven practitioner action, with expectations and opportunities for action integrated into its curriculum.
(As a reminder, POY applicants go through a rigorous screening process that involves an 8-member committee, representing just under 10% of CPED's membership. They are scored independently on a public rubric, followed by extensive committee dialogue and deliberation. Not only did the numerical scoring for these two institutions result in a tie, but the dialogue that followed resulted in a unanimous decision that both programs deserved recognition.)
You will have an opportunity to learn more about these programs at our October convening– but these brief descriptions will give you a sense of why we are so excited to share their programs.
Please join us in congratulating our colleagues at Baylor University and Northeastern University for this achievement!
Baylor University
Since its launch in 2018, the Baylor University EdD in Learning and Organizational Change (EdD-LOC) program has developed in scope, scale, and innovation to become the university's largest, fastest-growing, and most diverse doctoral program, with 59% of the program's 500+ scholarly practitioners being students of color. One of the most innovative aspects of this program is its unique design for students across a breadth of industries beyond the traditional field of education. Recognizing that the EdD has value beyond the realms of K-12 and higher education, we created a program that would be accessible to industry leaders in a diverse array of fields. Our reasons for pursuing a more inclusive program were twofold. First, the EdD makes change possible in education and learning communities, and we saw the value of broadening the idea of "learning" as a vehicle for change management to include other industry leaders seeking an advanced degree to support intra-industry leadership and organizational change efforts. Second, building on our core conviction that diversity adds richness to educational spaces, we worked to create student cohorts that embodied different voices, beliefs, and opinions. In learning to work with one another throughout the program, we builtd bridges for our graduates to establish ongoing community and industry partnerships, joining together in the ever-present mission of making our living and working communities safer, more equitable places.
Northeastern University
The EdD in the Graduate School of Education at Northeastern University is driven by its mission to cultivate scholar-practitioners through lifelong experiential learning, contributing to the transformation of communities toward just and equitable societies.  Following a year-long collaborative redesign process, in 2018 Northeastern welcomed its first group of students into the redesigned Dissertation in Practice Curriculum. Action Research was adopted as the sole methodology for the DiP for the program to integrate experiential learning – its signature pedagogy – more fully throughout the curriculum, engage scholar-practitioners in change leadership situated within their local contexts, and to emphasize social justice change work in ways that improve the human condition.  Students in the Northeastern EdD are part of a large-scale networked community to create change across the Globe.
Please join us in congratulating these distinguished institutions!
The CPED POY 2022 Committee
Harriette Thurber Rasmussen, EdD
Co-Lead
Drexel University
Kyle Ingle, PhD
Co-Lead
University of Louisville
Ray Buss, PhD
Arizona State University
Pricilla Boerger, PhD
Regis College
Kathy Geller, PhD
Fielding Graduate University
Jacqueline Hawkins, PhD
University of Houston
Gage Jeter, PhD
University of Florida
Emily Virtue, PhD
Western Carolina University
Share this post: