Benefits of Membership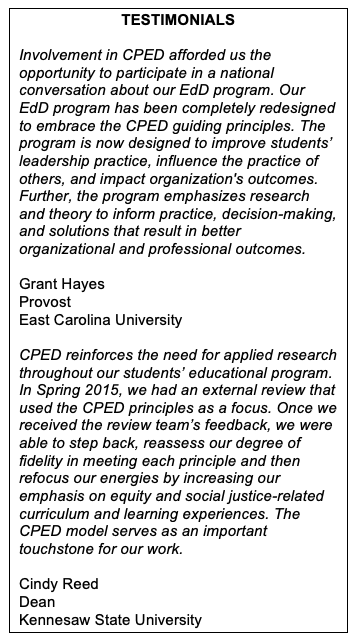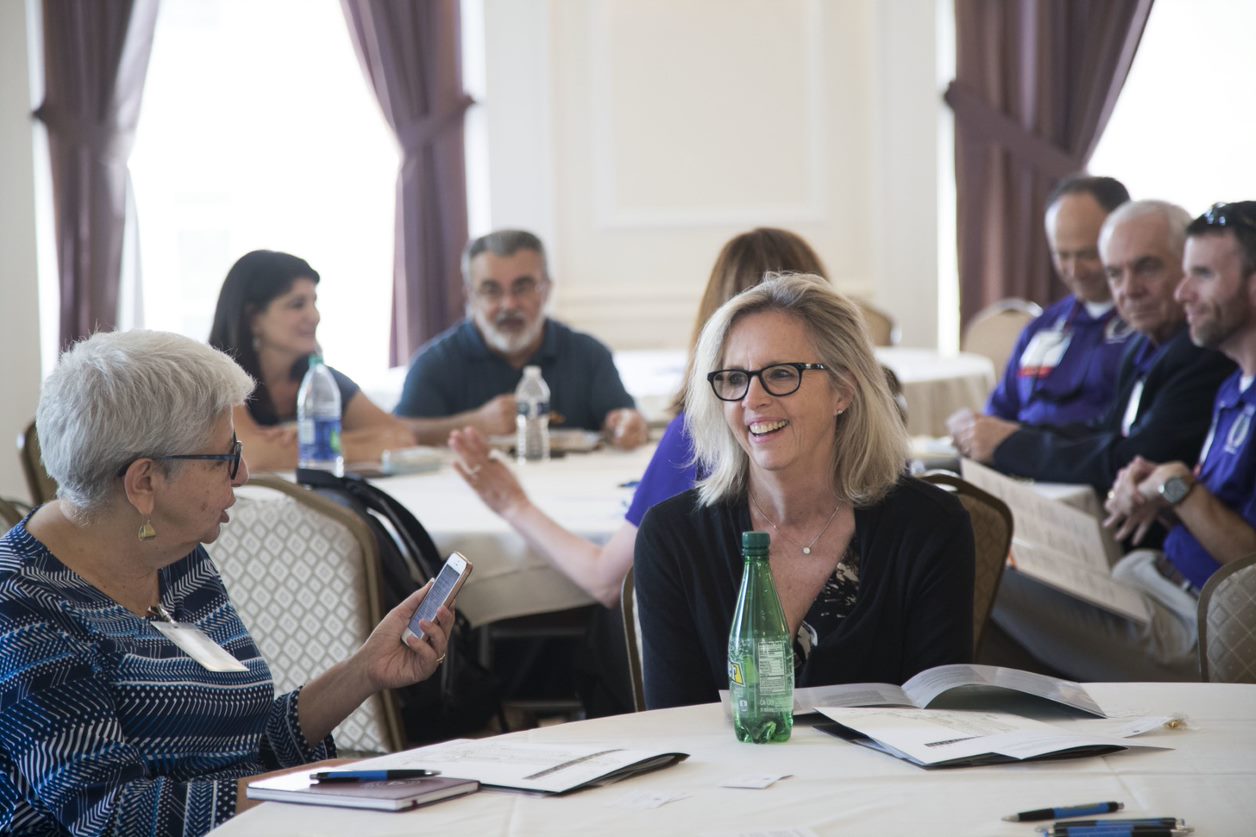 CPED represents a unique approach to doctoral program learning through continuous improvement and interaction with colleagues across a broad network of schools of education. CPED faculty meet virtually and at annual Convenings for collaborative learning and dialogue to advances innovative and effective EdD programming. Professional development opportunities, coupled with a rich website and member-driven activities, support member institutions to develop and promote their programs.
Benefits of CPED from CPED Initiative on Vimeo.
---
 Professional Community: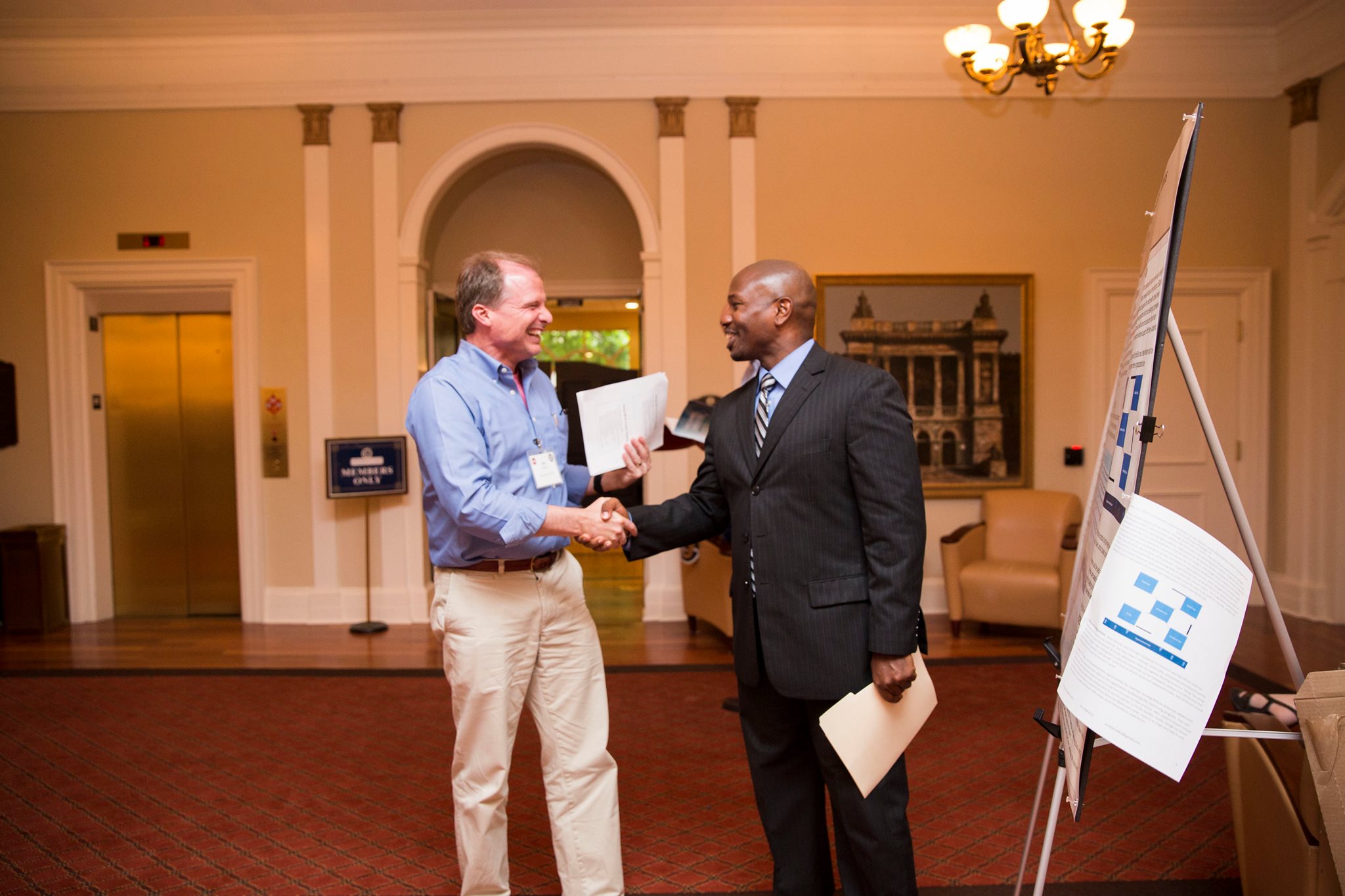 The number one benefit of CPED membership is access to supportive and resourceful colleagues from 125+ schools of education dedicated to transformative work.  CPED members can access a website, which offers a deep library of a) program design and development resources showcasing curricula, signature pedagogies, advising/mentoring strategies, approaches to writing support, evolving models of dissertations-in-practice, as well as program assessment tools, b) publications and white papers on EdD programming, and c) a materials and video archive from monthly special topic webinars and annual convening sessions.
---
Convenings: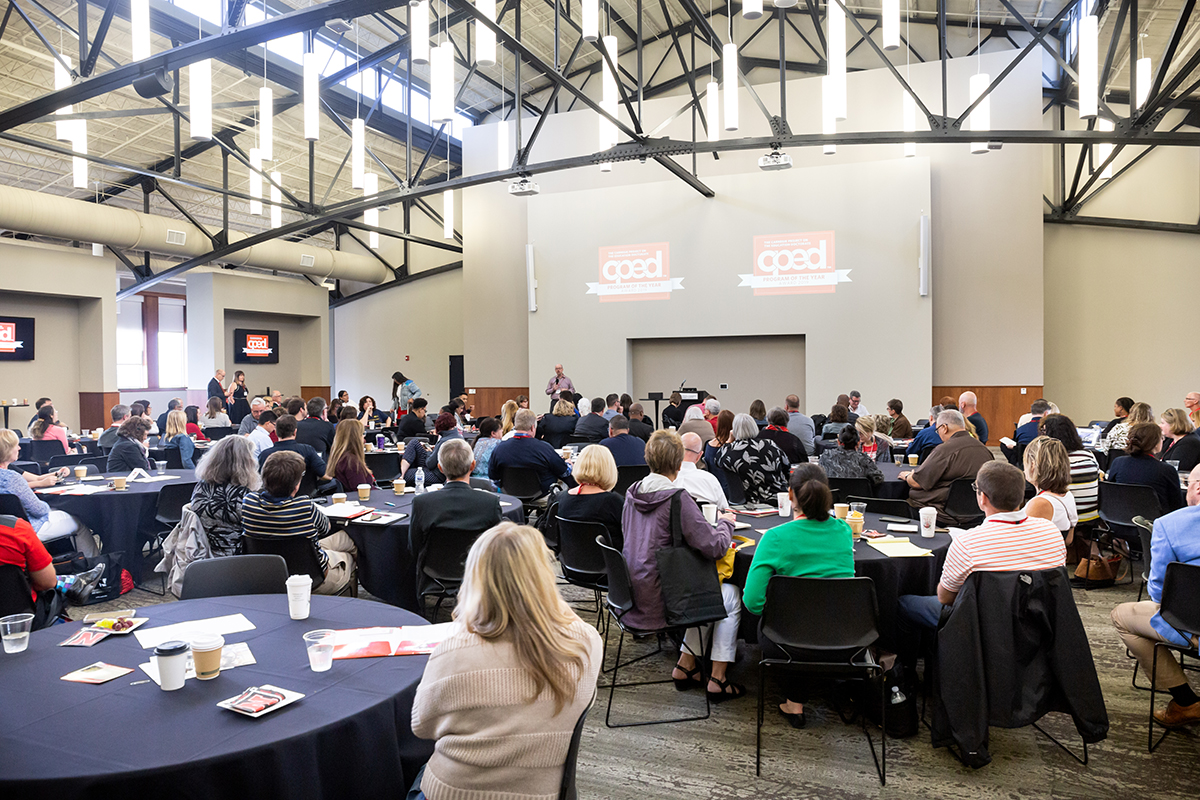 Annual convenings are a signature CPED activity. Convenings include pre-convening workshops, full consortium sessions, guest speaker sessions, as well as Learning Exchanges and CIGS (CPED Improvement Group).  *Each convening has a specific learning theme that members prepare for; they arrive ready to share ideas, give feedback, and collaboratively formulate action steps for improvement of their programs. Convenings are vital to quality EdD program development and the success of CPED as an organization. CPED members are expected to actively engage in Convenings. 
---
Publishing Opportunities: 
CPED's Impacting Education: Journal on Transforming Professional Practice, is an open source, peer-reviewed journal that assists member in producing and disseminating user knowledge for EdD program design and effective student learning experiences.
---
Awards: 
The consortium annually recognizes members and their students with three awards: Program of the Year Award, Dissertation in Practice of the Year Award, and the David G. Imig Distinguished Service Award. Through evaluation by a committee of peers, each award honors outstanding work and recognizes the impact of CPED on improving professional preparation. 
---
Commitment to Engage & Change 
for Member Institutions & their Education Schools
 While CPED is providing a structure for this effort and some initial ideas to spark discussion, the member programs and their education schools are defining the content and direction of the efforts to improve their own education doctorate. By joining the consortium, member programs and their education schools are demonstrating a commitment to the core mission of CPED— to strengthen, improve, support, and promote the CPED Framework through continued collaboration and investigation in order to build a stronger and more relevant degree for the advanced preparation of school practitioners, clinical faculty, academic leaders, and professional staff for the nation's schools and colleges and the learning organizations that support them and to the CPED Framework. In addition to reforming the Education Doctorate, member programs and their education schools commit to empirically investigating their reform efforts and to: (1) transparently share what they have learned with the consortium, (2) invite and use critical review, and (3) expect others to build on what they have learned.
Institutional Leadership. The member programs and their education schools will designate a faculty member to serve as the Delegate to the CPED initiative. This person will ideally serve as the institutional representative at all CPED events, relaying information between the member programs, their education schools, and the CPED consortium. This person will generally be a key member in the institution's EdD redesign.
Resources and Support. The member education school will provide resources and support for the redesign of its Education Doctorate and participation in the CPED Consortium. Such support will include: payment of annual membership dues, travel funds to attend semi-annual convenings, additional supports that will allow the CPED Delegate to participate in CPED on behalf of the institution, and might include a graduate assistant for the CPED Delegate, and support for redesign of EdD program at home campusData Collection. The CPED leadership team will regularly request data from all member programs and their education schools. Such data may include faculty size, doctoral cohort size, time to degree, attrition rates, degree program structure and requirements, teaching and advising load for faculty, career plans and placement of graduates, as well as more in-depth data about, and description of, the redesign process and its utilization of the CPED Framework. Programs and their education schools will be responsible for collecting requested data, providing them to CPED leadership, and answering questions that may be necessary to clarify the data and their comparability across member programs and education schools.
Information Sharing. In the spirit of collaboration, member programs and their education schools will share insights and lessons learned within the CPED consortium. In addition, member institutions will serve as "critical friends" to one another, providing constructive feedback to colleagues' program designs in an effort to ensure the highest quality education doctorate degree programs.
Evidence of Progress. Member programs and their education schools will provide CPED with evidence that the institution has worked towards implementing the CPED Framework in order to create a record from which others can learn. Evidence of deliberations and resulting experiments can take a variety of forms (e.g., survey studies, cases, improvement efforts, self-studies, action research). This evidence should flow naturally from change efforts and further the work of the member programs and their education schools. It is not intended to create a time-consuming administrative artifact or an evaluation. The CPED leadership team will prompt for evidence on an annual basis and will provide guidelines to assist member programs and their education schools to easily provide requested evidence.
Pre-Convening Orientation. The CPED Delegate, and any other institutional representatives who wish to join, will participate in one on-line or in person orientation to take place before attendance at their first convening. This orientation will foster a better understanding of CPED membership. Its accompanying materials will complement the orientation and assist new members in understanding the history, mission, goals, and design-concepts of CPED.
Participation in Convenings and Other Events. Member programs and their education schools must be willing to send at least one representative to the semi-annual convenings. These representatives will be chosen by the member programs and their education schools. Ideally, the representatives should be key participants on the redesign team (including the CPED Delegate) within the education school. Registration fees, travel, and housing expenses associated with the convenings will be borne by the member education school. Convening registration fees include some meals and meeting space.